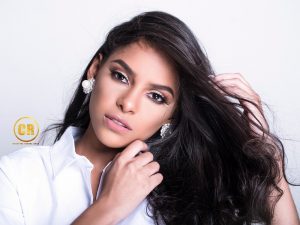 My name is Daviënne Bislip, I was born in Aruba on august 29th, 2001.
When I was 6 years my mom decided to immigrate to Curaçao and took me with her. Curaçao is the birth country of my mom. It was very easy to feel at home, because most of my family lives there, and the community made me feel loved and secure.
In the year of 2018 I was approached by the Curaçao International Crowned Queens Organization to represent Curaçao in the Miss Teen Tourism World Pageant.
It was a challenge for me, because even though I always dreamed on participating in the Miss Curaçao Pageant, at the moment I wasn't thinking of that.
With only 6 weeks to prepare myself, I gave it all, my perseverance and with the help of my family and friends I achieved my goal and won the following titles: Teen Best Body, Teen Elegance, Best Gala Dress and Miss Teen Tourism World 2018.
Currently I am in my third year studying Business Management, my plans are to open my own company in the future. In my free time I like to go to the beach, play with my dogs and spend time with my family and friends.
My projection for this year was to make a great comeback for Curaçao in the Teen Universe Pageant and so I did, I brought home the title of Second Runner-up Teen Universe 2020.
In three years I see myself on the road to the crown for the Miss Curaçao and of course representing it in the Miss Universe Pageant. The one million question, why represent Curaçao and I was born in Aruba? I'm proud I was born in Aruba, but if we count my years living in Aruba and the ones in Curaçao, you'll noticed that most of my live I have been living in Curaçao and Curaçao has been good to me, so I want to express my gratitude by doing great things for this beautiful country.